In Progress 
Romania, Korea|2023(estimated)|85min(estimated)|Documentary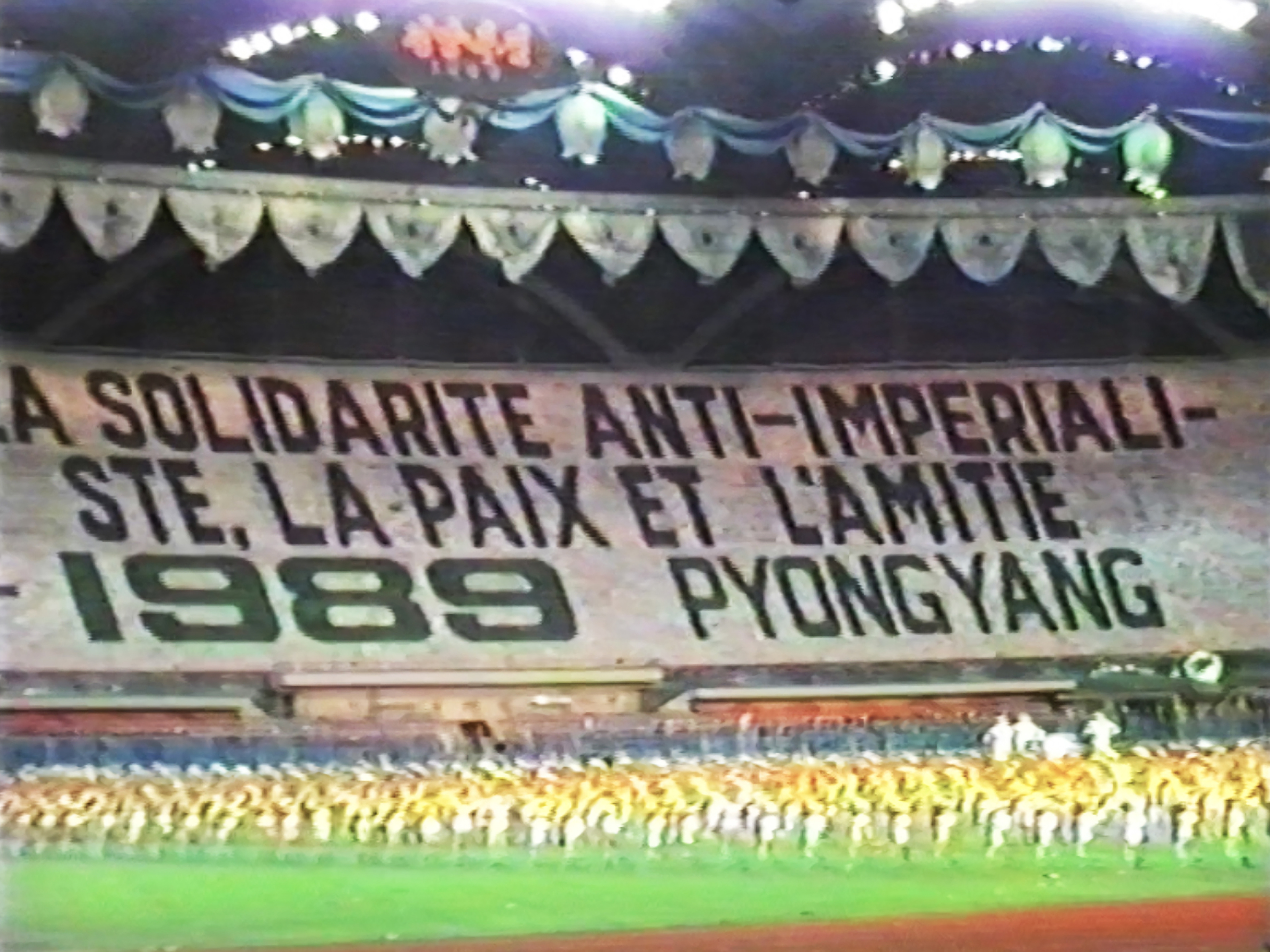 Under the slogan "For Anti-Imperialist Solidarity, Peace and Friendship", the internationalist event gathered in Pyongyang 22.000 youth from 177 socialist, non-aligned and western countries to discuss issues of peace and disarmament, environmental issues, women's and children's rights and learn of each other's cultures. At the 13th edition, the first to be held in Asia since the festival's establishment in 1945, the Romanian Youth Delegation was a guest of honor due to an exceptional relation of friendship between the leaders of the two countries. Diplomatic cables sent by the Romanian embassy during the festival describe a tense behind-the-scene political situation that would eventually lead to a profound historical change. The experiences of young participants from Romania, USA, Russia and Korea paint the portrait of a generation on the brink of history. It is the hottest summer of the Cold War and the end of an era.
"반제국주의 연대, 평화, 우정을 위하여"라는 슬로건을 내걸고, 1989년 6월 평양에서 제13회 세계청년학생축전이 열린다. 비동맹국가와 사회주의 국가, 서구 국가의 사회주의자들까지, 전세계 177개의 국가에서 온 22,000명의 젊은이들은 평화와 군축, 환경 문제, 여성 및 아동 인권에 대해서 토론했고 서로의 문화를 배우고자 했다. 1945년 첫 행사가 개최된 이후로 아시아에서 처음 열린 대회였다. 루마니아와 북한의 특별한 외교적 관계로 인해 루마니아청년대표단은 이 행사에 특별 손님으로 참가하게 되었다. 그러나 평화로운 행사와 별개로 루마니아 대사관이 축제 기간 중 보낸 외교 전문은 긴박한 막후 정국을 묘사하고 있었다. 루마니아, 러시아, 미국, 재일조선인 등 젊은 참가자들의 경험은 역사의 벼랑 끝에 선 한 세대의 초상화로 묘사된다. 이것은 가장 차가운 전쟁이 끝나던 시기, 가장 뜨거운 여름날에 벌어진 축제의 이야기이다.
The World Festival of Youth and Students was part of a larger political project that aimed to "globalize socialism" and the film surveys this complex framework in which international youth movements gathered to create platforms aimed to express their agency and reflects on experiences and modes of organization that have since lost their stringency. The history of internationalism was quickly forgotten following the fall of socialist regimes in Eastern Europe. But now these stories are surfacing once again, fascinating a new generation and seeking fresh takes on the past. All bring visions of worlds that shatter the easy black and white categories of the Cold War and raise important questions about what it means to be young, international and in solidarity, then and now.
세계청년학생축전은 사회주의를 세계화하려는 큰 정치 프로젝트의 일부였다. 영화는 국제청년운동이 자신들만의 플랫폼을 만들기 위해 모였던 일과 그것의 절박함이 사라진 이후 지난 경험을 성찰하는 과정을 탐구하고자 한다. 
동유럽 사회주의 정권의 몰락으로 국제주의의 역사는 빠르게 잊혀졌다. 그러나 이 이야기들은 지금 다시 한번 소환되어 새로운 세대에게 또다른 영감과 과거에 대한 재해석을 불러일으킨다. 냉전이라는 시기를 쉽게 흑백의 범주로 바라보는 시각에 대해 반문하고, 과거와 지금에 있어 '청년'과 '국제', 그리고 '연대'가 무엇을 의미하는지 의문을 제기한다.
DIRECTOR. 안드라 포페스쿠 Andra Popescu
PRODUCER. 모니카 라주레안-고르간 Monica Lăzurean-Gorgan(Manifest film), 고두현 KO Duhyun
2020.10.  DOK LEIPZIG CO-PROMARKET Selected 
- Honourable Mention for the Best Female Director of the Saxon State Minister for the Arts

2021.08.  Development Fund / DMZ Docs Fund (DMZ IDFF)